Today I'm going to show you six website builders that you can build a free website with your own custom domain.
Usually, adding a custom domain is a feature reserved for paid plans as website builders would rather advertise their brand (e.g., XXX.wixsite.com) in the URL if they're offering you their software for free.
Luckily, there are generous website builders out there that would allow you to add a custom domain at no extra cost.
Whether you're creating an eCommerce store, a personal website, a business website, a portfolio, or even a blog. I'm going to show you the best free website builders to build these sites
6 free website builders to create a website with your own domain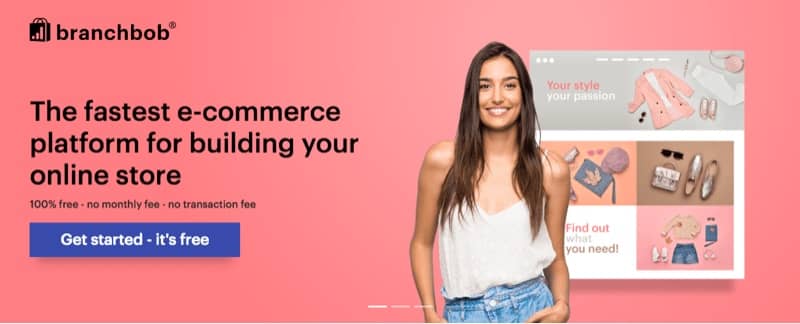 Branchbob is a versatile eCommerce platform that comes with a generous free plan. One that allows you to use a custom domain for your online store!
Usually, adding a custom domain is an advanced feature reserved only on paid plans.
However, Branchbob is one of the few eCommerce platforms that allow you to add a custom domain for free while also gives you access to other advanced features, such as:
Sell unlimited products online (digital & physical)
SSL certificate
Third-party integrated tools such as Google Analytics and other social media platforms
Automatic inventory tracking
Automated emails for orders, invoices, etc
And much, much more.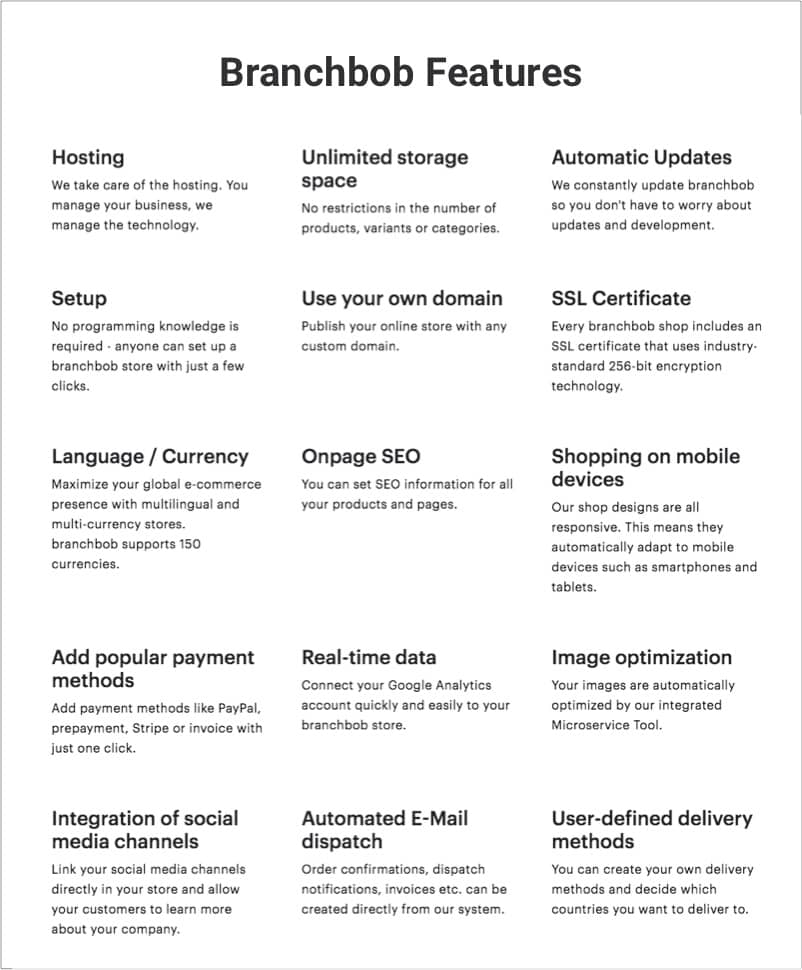 What's great about Branchbob is that you can build a complete online store free of charge and without restrictions.
You'll be able to set up unlimited products to sell, accept payments via popular payment methods (Paypal, Stripe, or invoice), add support for various currencies, languages, and yes, you can add a custom domain to your store.
Note: You won't be able to purchase a custom domain via Branchbob. Instead, you have to get the custom domain through a third-party domain name registrar (e.g., Namecheap, GoDaddy) and redirect it to Branchbob.
If all that sounds too technical for you, luckily, BranchBob has a step-by-step guide to show you how to add a custom domain to your store.
It also helps that Branchbob has a friendly and responsive customer support team. Based on my experience, you can expect a same-day reply to any questions you have about the platform.
Branchbob limitations
Basic theme design — Don't expect premium storefront design, and the options to customize are limited unless you feel confident about editing some code. Although, Branchbob intends to release premium themes you can purchase in the future.
Limited third-party apps — Sadly, there are very few integrations available to help extend your store. Fortunately, existing Branchbob features allow you to run a fully functional (and scalable) eCommerce store for free.
Branchbob branding — Branchbob includes their brand logo in your site footer.
Shift4Shop is a complete and robust eCommerce platform known for providing outstanding technical support 24/7/365.
Their best offer?
A complete eCommerce solution to build your online store for free! BUT only if you reside in the US.
If you're not from the US, then, unfortunately, Shift4Shop isn't that great of a deal for you.
Otherwise, you get to use all of Shift4Shop's premium features for free. Included but not limited to:
Add a custom domain (You also get a free domain in the first year)
Sell unlimited products and variations
Inventory control
Bulk quantity discounts
Single page checkout
Upsell and cross-sell functionalities
A built-in customer relationship management (CRM) tool
Abandoned cart emails
Integrated sales channels like Facebook, Google, Amazon, eBay, etc
Drop shipping support

Since Shift4Shop is such a versatile eCommerce platform, you can build all kinds of stores, whether it's selling subscriptions, print-on-demand products, hardware, brand merchandise, event tickets, or even a dropshipping store.
Shift4Shop can do it all.
The downsides of Shift4Shop
Unlimited Free plan for US customers only — If you live outside of the US, unfortunately, you have to pay (starts at $29/month) to get access to all the advanced features.
Basic theme design — Shift4Shop has over 100 free online store themes, but most of them are basic looking. Although they give you full access to all the files that make up your theme, so you're free to edit it if you have coding knowledge.
Shift4Shop Verdict
Building a free online store on Shift4Shop is as good as it gets, assuming you live in the US. You get all the advanced features other platforms charge hundreds of dollars per month for free on Shift4Shop.
What's more? They'll even migrate your current eCommerce website to Shift4Shop free of charge.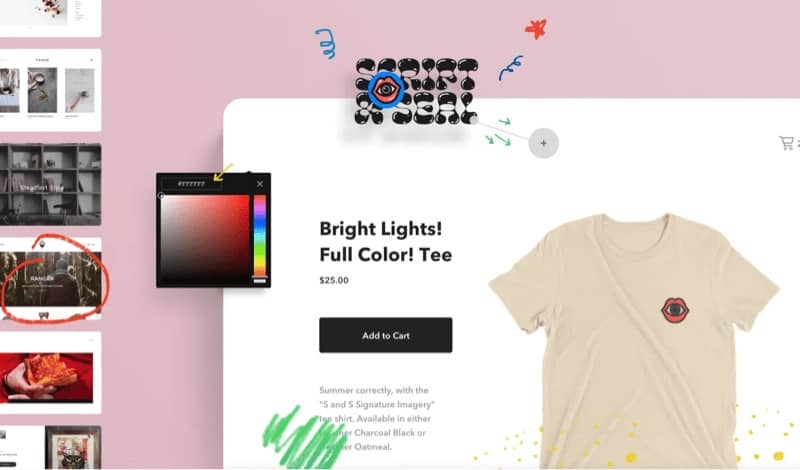 Don't be intimidated by the name. Big Cartel is a beginner-friendly eCommerce platform for makers, artists, and creative professionals to set up a simple store and sell their products.
Big Cartel is inexpensive compared to alternatives like Shopify and BigCommerce. Its free plan, in particular, allows you to create an online store with a custom domain.
It also gives you various ways to set up a store with a few clicks, and you can set up different variations of products to sell.
Design wise, you can tell by their website templates. They're unique, full of personality, and the layout is designed to highlight the artist's creative work.
Each built-in theme has its own available set of customization options. It's easy to upload a header, logo, or background image, add a slideshow, adjust color and font settings, and make other adjustments to your theme layout - no coding required.
Here are some great examples of Big Cartel stores:
Jose Roda sells his creative illustration via merchandise.
Ceramist Uno Ichi sells handmade ceramics behind her grandmother's house.
Abstract hand painting by The Feebles.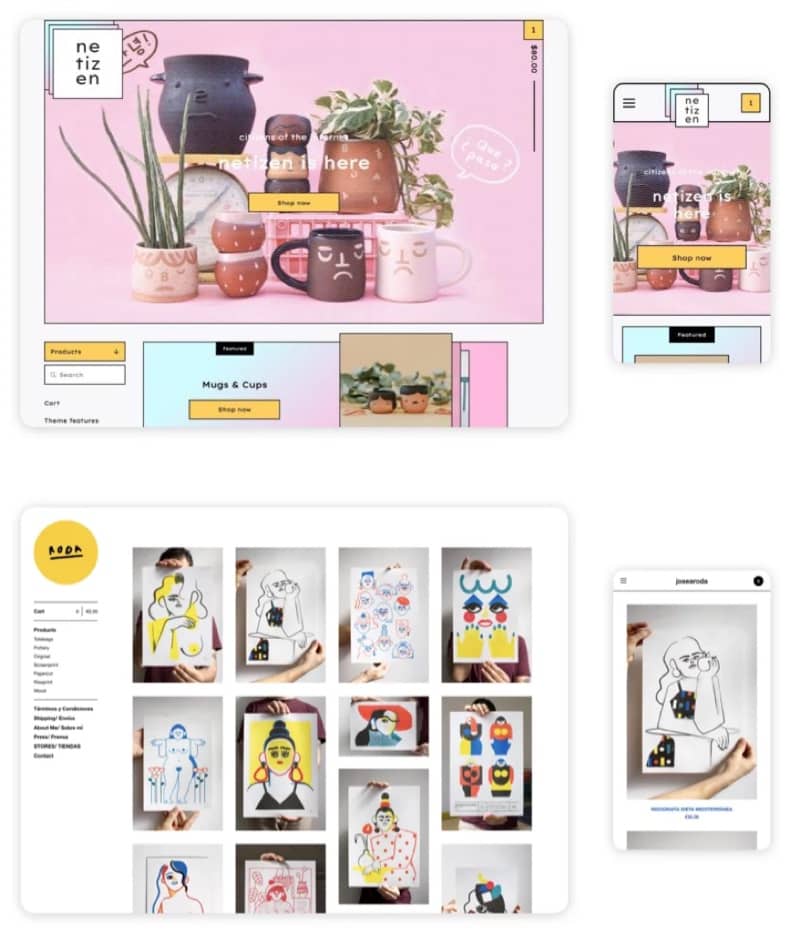 Click here for more examples of BigCartel themes
Note: You're only allowed to sell up to 5 products on the Big Cartel's free plan. It comes with free themes, real-time stats for your orders, custom domain, shipment tracking, discount & promo code, and auto-calzculated sales tax.
Despite the limitation, Big Cartel's platinum plan ($10/month) is worth signing up for If you decided to upgrade. You can sell up to 50 products plus time-saving features such as inventory tracking, bulk editing, and advanced store customization.
Disadvantages of Big Cartel
Lacks integration — Big Cartel doesn't offer many integrations. So you will find yourself spending time copy-pasting info from your shipping service, social media pages, etc.
Lacks cross-channel selling — Big Cartel also lacks direct integration with other sales channels like Instagram, Facebook, Pinterest, etc. So there's going to more work involved if you want to set this up.
Summary for Big Cartel
If you need a simple online store to sell your work (physical, digital products, and services), Big Cartel is a great inexpensive platform for it. But if you need a large, multifunctional online store, you won't find enough Big Cartel features to support your business.
4. Wordpress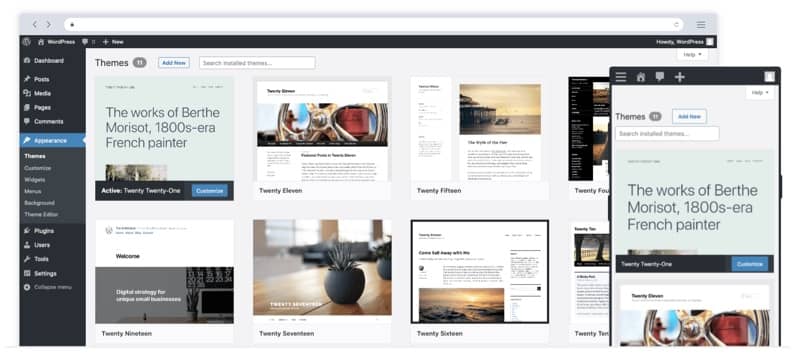 Wordpress isn't a website builder per se, but it is one of the most popular platforms for building a website.
To set up a Wordpress site, you have to get a custom domain and dedicated web hosting.
And since Wordpress is free, it is often the preferred choice for many web developers.
Pros
The best blogging platform — Versatile blog editor, schedule posts, easy to edit, built-in comments, search engine optimized (SEO),  user management, etc.
Thriving plugins ecosystem — Wordpress is the most extensible website builder platform. Any feature you can think of, you can probably find in the plugins directory.
Vibrant and supportive community — Wordpress has been around a long time and has grown into a big community. You can easily ask and get help on the forum or hire a web designer or developer to build your website.
Easy to customize and DIY — There are popular tools that help users build web pages visually. Even those without design or technical skills can create a good-looking site without spending too much time. Popular visual page builders for Wordpress: Elementor, Divi, and Visual Composer.
Cost effective — If you're willing to spend time and learn to set up a Wordpress site, it'll cost you no more than $10 a month. About $5 a month for web hosting and $10 a year for getting a custom domain name.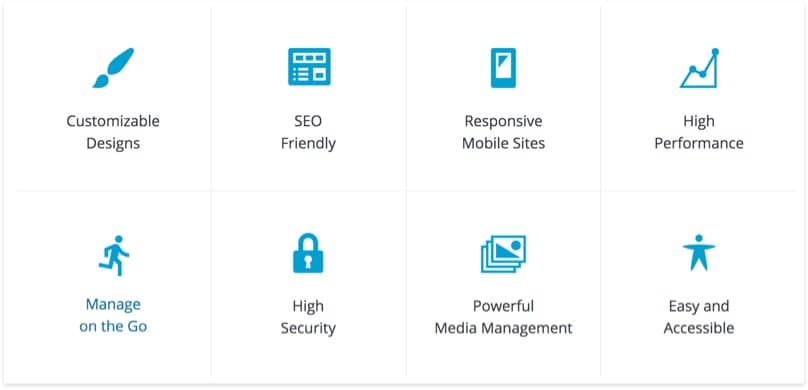 Cons
Learning curve —Setting up a Wordpress site is not a walk in the park. Sure, there are plenty of resources online (almost too many). You'd still need to learn how to buy your domain name, compare and buy web hosting, connect your domain to your Wordpress site, set up a Wordpress theme, among other things.
Time spent on managing the website — Once you have your site up and running, you need to regularly update and back up your site since Wordpress developers update the software frequently. Not to mention you have to keep your plugins updated and upgrade your servers when you get huge traffic. Published authors usually outsource this bit, but this would mean extra cost for the project.
Third-party dependency — If there comes a time when you need to customize, add features to your site, or when the site suddenly crashes or stops working properly (which happens to every Wordpress site), then you need a Wordpress expert or a web developer to help you out.
Also read: Wordpress vs Squarespace vs Wix vs Weebly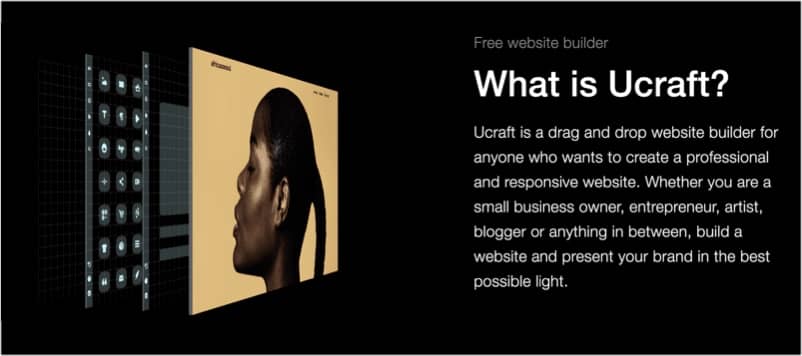 Ucraft is an excellent web design tool for anyone who doesn't have a lot of experience and wants an easy drag-and-drop website builder for their website.
While there are many features to learn, it's a pretty intuitive experience even for those who aren't tech-savvy. Their interface is full of explanations for every single button and function.
The free version has enough features to make a cool personal website. Best of all, Ucraft is one of the few website builders that let you connect your domain to your site for free!
Other Ucraft benefits on their free plan:
Unlimited bandwidth for your website (Unlimited web visitors)
Google analytics support
24/7 support
Password protected pages
Ucraft is also known to provide great customer service, even if you're on a free plan.
If you plan to add a custom domain to your site, which can be relatively complex for a beginner, there's a step-by-step video guide to show you how to do that.
And if you get stuck, there is a chat button to offer help whenever you need it.
Note: If you decide to sign up for a free Ucraft account, make sure you click on the "Get Started" link on the Free plan. The default Get Started link signs you up for a 14 days trial for the Pro plan, which you need to pay to keep the website online after the trial ends.
Ucraft free plan limitations
While you're on the Ucraft free plan, there are a few limitations you need to know.
Ucraft branding — Ucraft will add a watermark "This website is created with Ucraft" at the bottom of your site.
Limited customization — You won't be able to set custom fonts, customize sign up forms, and use advanced layouts for your site.
No eCommerce —  eCommerce features are only reserved for paid plans (starting $10/month).
Limited SEO features — You won't be able to customize titles and descriptions for SEO.

This may come as a surprise, but creating a Google Site is as simple as making a Google slide.
It's 100% free — there isn't a paid plan, and there's no plugin to purchase — you're also allowed to add a custom domain to your site.
Part of Google Site's appeal is that they've simplified the website design process as much as possible.
For example, instead of limitless customization, there are only a handful of layouts to use.
And there are only a few page elements for you to add to the site — Image, text, button, table of content, and image carousel.
Every element you add will snap in its place.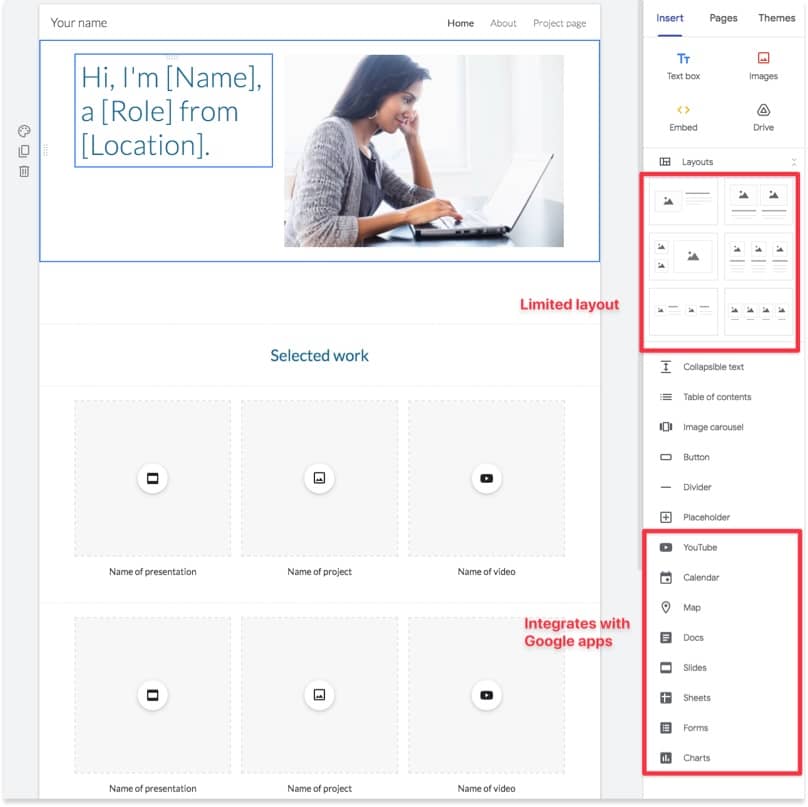 By placing these limitations, Google ensures your website will work on all screens and devices regardless of how you build it.
Once you're done, just hit publish, and you have a fully functional website with a link to share with anyone.
Other notable features that Google Site offers.
Set a custom URL for all your pages.
Integrates with other Google apps easily, e.g., Google docs, Maps, Forms, Calendar, Charts
Edit your site on all devices. You just need the link to edit, just like Google Docs.
Google Sites limitation
Limited themes. Only a handful of themes are available.
Limited apps and integrations. Only Google apps.
Limited customization.
No blog.
No eCommerce.
No membership site.
Google Sites summary
Google Site is great if you need to set up a free, simple, and practical website with a custom domain as fast as possible.
Design and customization are not a priority for you. You don't mind a basic looking website as long as it works and displays all the information you need.
So which one should you choose?
If you're creating an eCommerce store, go with BranchBob or Shift4Shop. They're both free and come with robust features for you to sell online for free. Although, if you reside in the US, Shift4Shop has a slight advantage as they have more advanced features built-in.
If you just need a beginner-friendly website builder to build a simple website for your business or personal site, then BigCartel, Ucraft, and Google Site are great.
But if you need maximum customizability, advanced plugins, and blogging features, Wordpress is undoubtedly the best tool for it.