Here are  some of the best Volusion websites I personally found online
Volusion is an eCommerce/online store builder that has gained popularity since the 2010s.
While competition is fierce with the entrance of Shopify, BigCommerce and Woocommerce, Volusion remains a popular eCommerce solution for its simplicity, ease of setup and dedicated 24/7 support.
Local and international well known businesses have used Volusion (as you will see) to build their eCommerce empire is a testament to how scalable the platform is even without the bells and whistle.
Important: Don't be fooled by the simplicity in design for some of these websites. Each of the websites listed here gather at least 1 million visitors per month and is a respectable giant in their niche.
If you ever wanted to build an eCommerce business or online store with low budget, here's a list of free and best value online store builders.
Enjoy!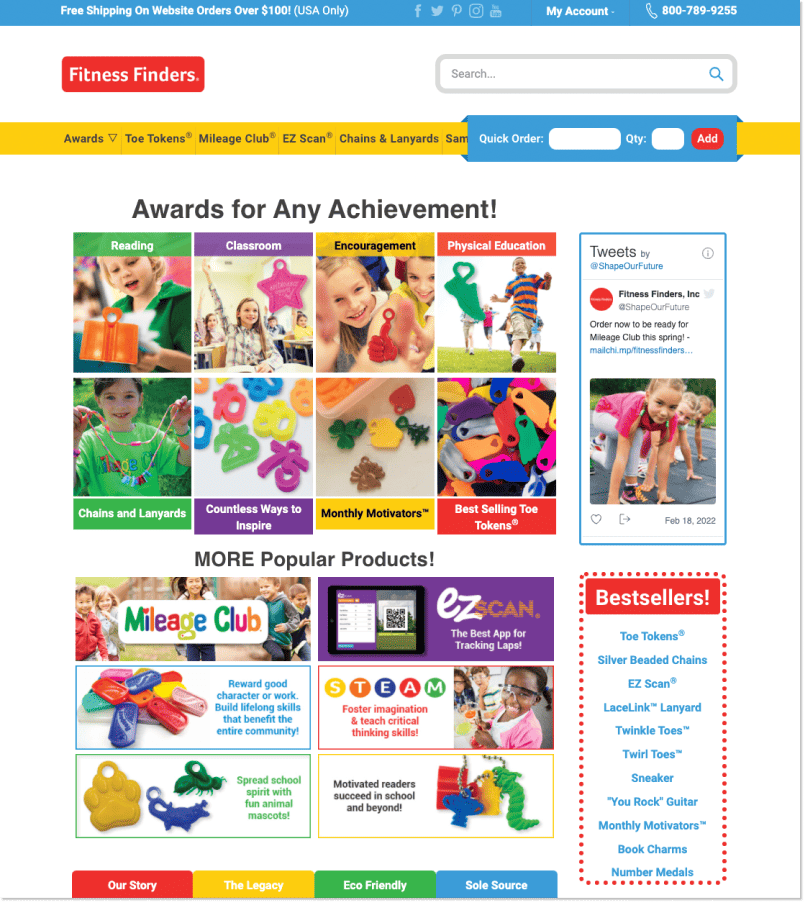 Fitness Finders was founded by Dr. Charles and Beth Kuntzleman as part of their lifelong mission to improve the health and fitness of young people.
They primarily help children focus and engage by selling fun, affordable classroom awards — from animal charms, reading trophy, wristbands, and various fun collectibles — in hopes to encourage and motivate students while they're in school.
They sell these children collectibles through their eCommerce site which was built on Volusion. Their site was custom designed and adopts a colourful, fun, and inspiring color to reflect the target audience, who are mainly children and pre-teens.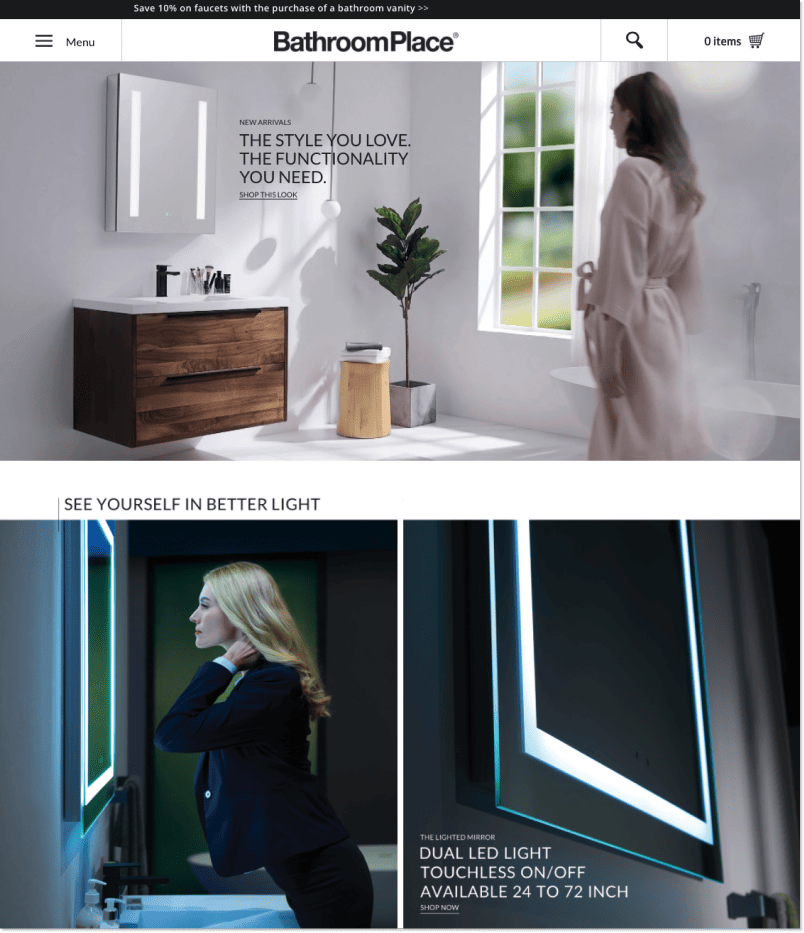 BathroomPlace aims to be the market leader in the bathroom furniture and accessories space.
First established in the year 2001 in Florida, they have expanded their portfolios to include well known brands we all know today — Inolav, Toto, and Grohe to name a few.
You can buy various branded bathroom products, such as toilets, sinks, tubs, shower systems and many other through their eCommerce site which features a clean and minimalistic design, just like how a bathroom should be!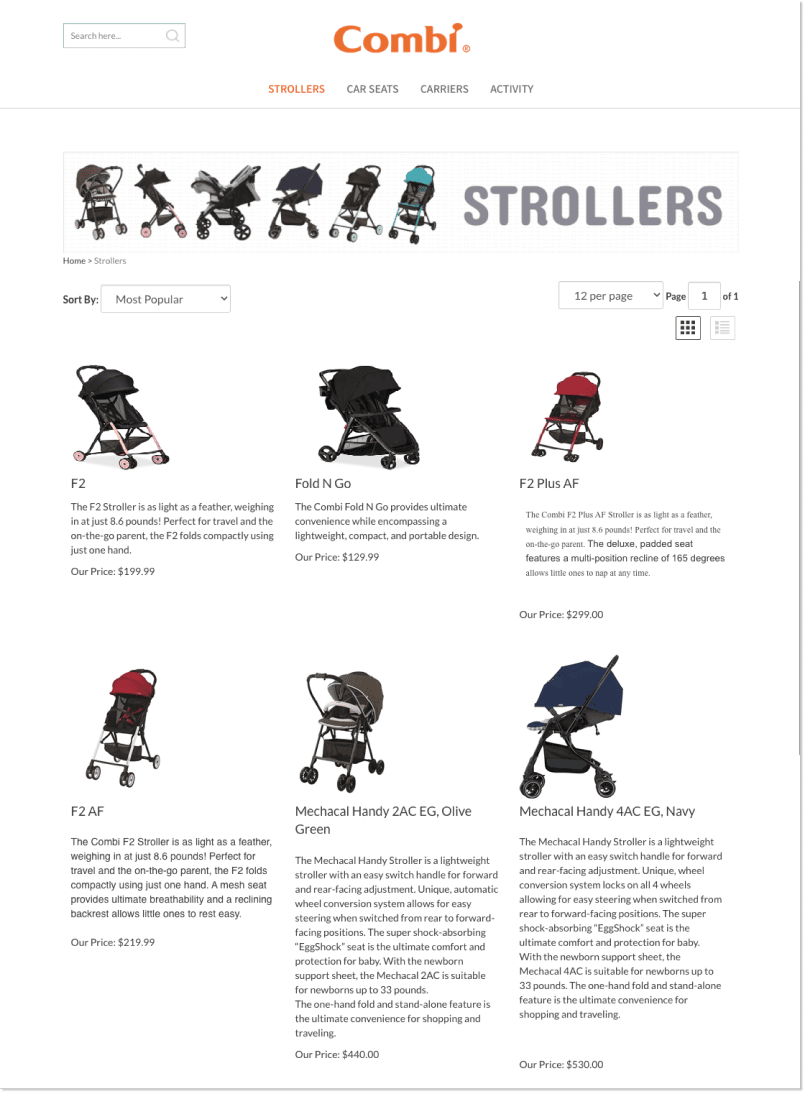 Combi (USA) was established in 1989 as a subsidary of the Number 1-selling Combi Corporation in Japan. They offers a variety of parenting products which includes lightweight strollers, car seats, fun mobile entertainers, feeding products and everything in between!
Their site was built on Volusion. Even though it isn't a fancy website (just the opposite!), their website is simple, well structured and it's presented with detailed, clear product information, just as you'd expect from an eCommerce site.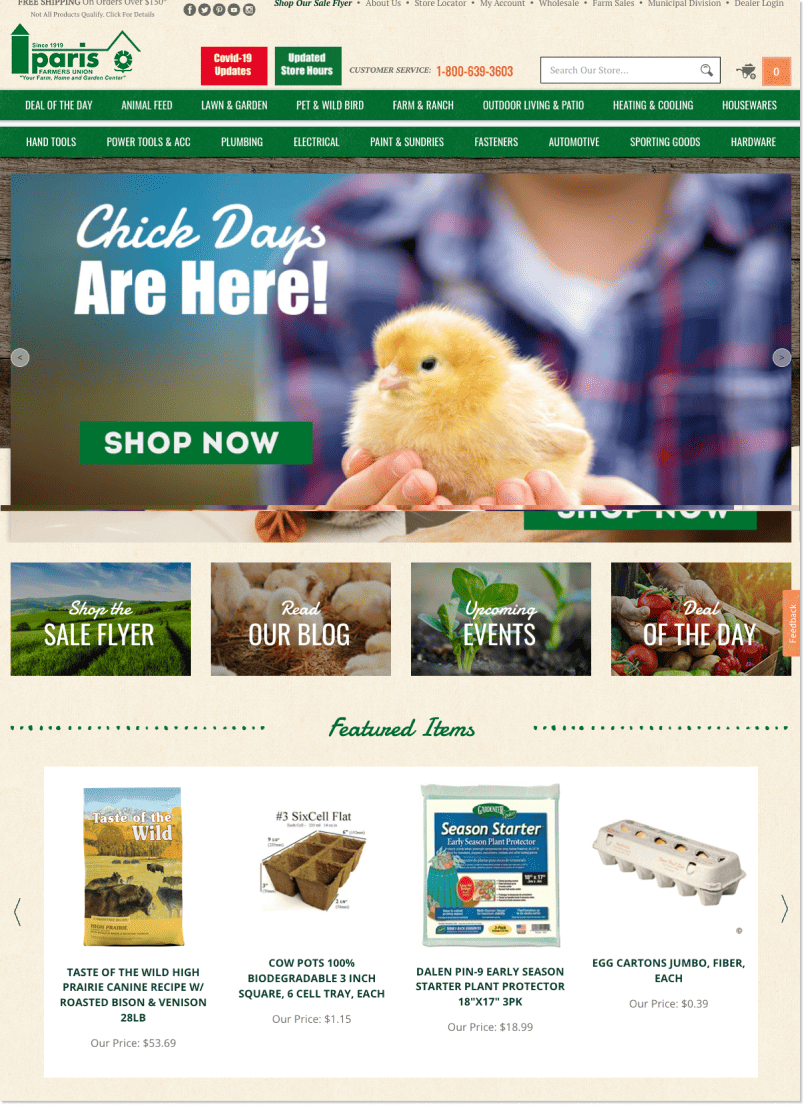 Paris Farmers Union was established in 1919 (more than 100 years ago!) to supply  grain, sugar and flour in the state of Maine. In recent years they've pivoted to selling pet foods, farm supplies, building materials and garden supplies in their retail division instead.
Their online store spots a pretty slick, eco-friendly, earth-themed design that draws inspiration from mother nature. A pretty smart tactic they employ is having a "Deal of the day" page which keeps customer coming back for special discounts.
John and Kendall Antonelli opened their first cheese store after their honeymoon back in 2010.
What started as a humble Cheese Shop in a beloved neighborhood has now grown into a cheese house  where they host public classes, private events and a wholesale program sourcing and distributing artisanal cheese and meat across Texas.
On their website, you'll find drool worthy photos, picture-perfect cheese of all kind. Make sure to drop by! There's lots more than buy cheese, they offer wine, gift sets, and workshops too!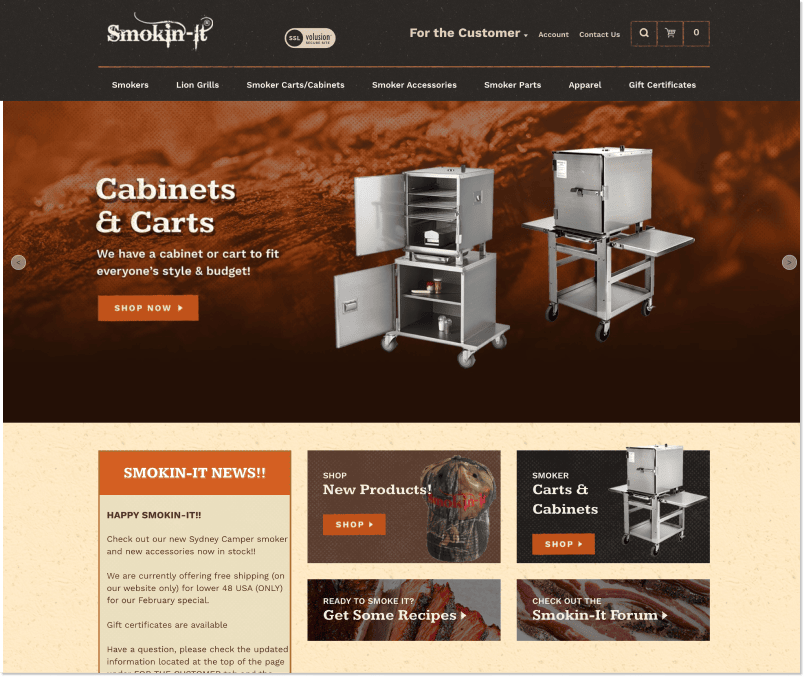 Smokin it is an eCommerce store that sells high-quality, long lasting cooking products for all of your smoking needs. Some of their best sellers include smokers and lion grills among many others.
They have a commitment to provide best value products at the best price so this is a business you can definitely support!
And, if you fancy smoking meat in yourself be sure to check out the community forum for tips and tools talks.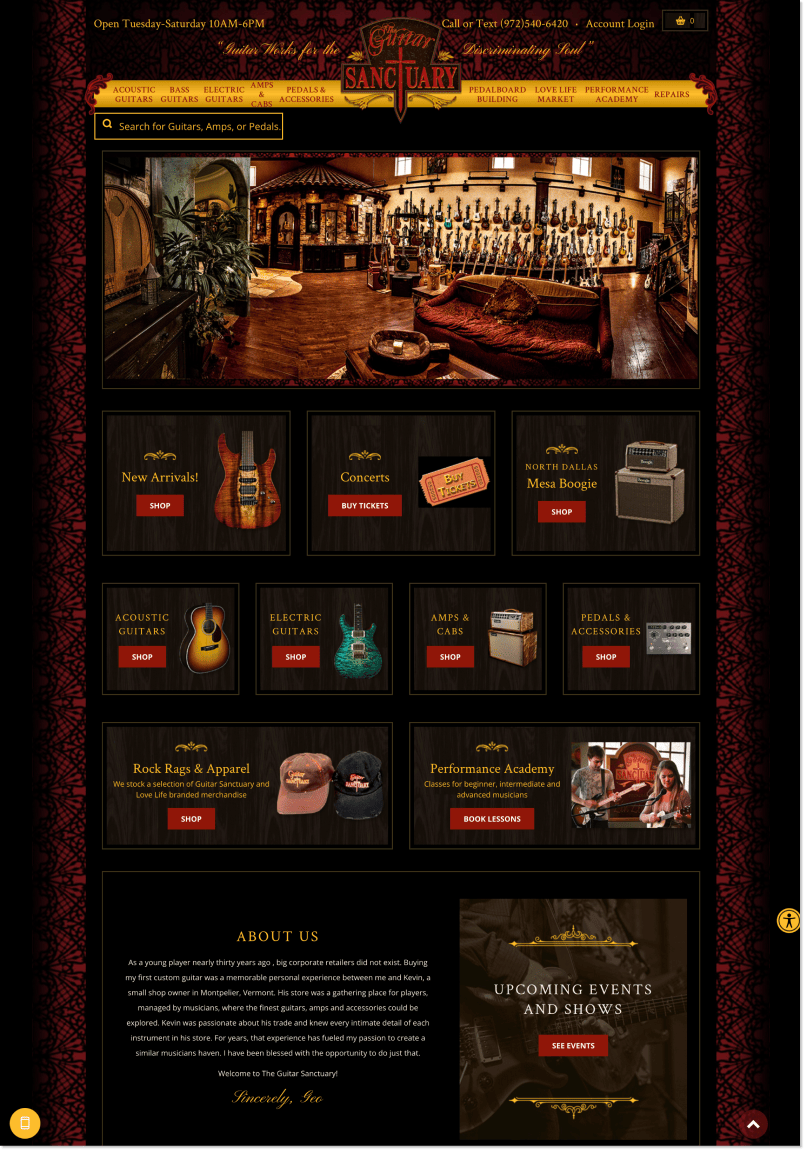 Geo and his team at the Sanctuary are passionate about all things guitar and strive to find those pieces that represent the instrument in its highest form.
They work with  builders and companies who share a passion and energy to build the finest guitars, basses, pedals, and amplifiers, which they display in the finest showroom, staffed by an exceptionally knowledgeable staff.
This is also one of the slickest guitar online store I've ever seen! There's a handy search feature that allows you to browse the latest guitar selection in store.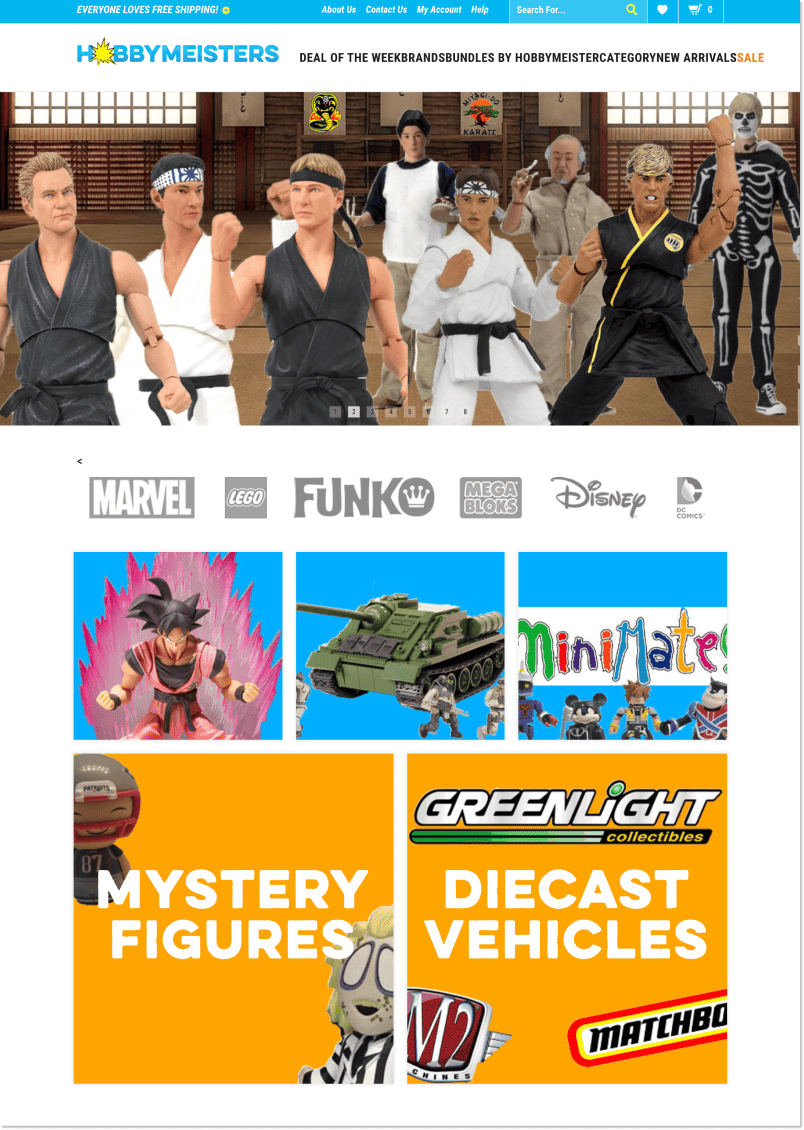 Hobby Meisters is a family owned business that sells amazing toys and collectibles, such as die-cast vehicles, action figures and trading cards.
Their online store has a large selection with new products arriving weekly. Definitely check out their "New Arrivals" section if you're a collectible fan.
Being in the business for over 20 years, they pride themselves on great customer service and great selection which is rare in the toy industry.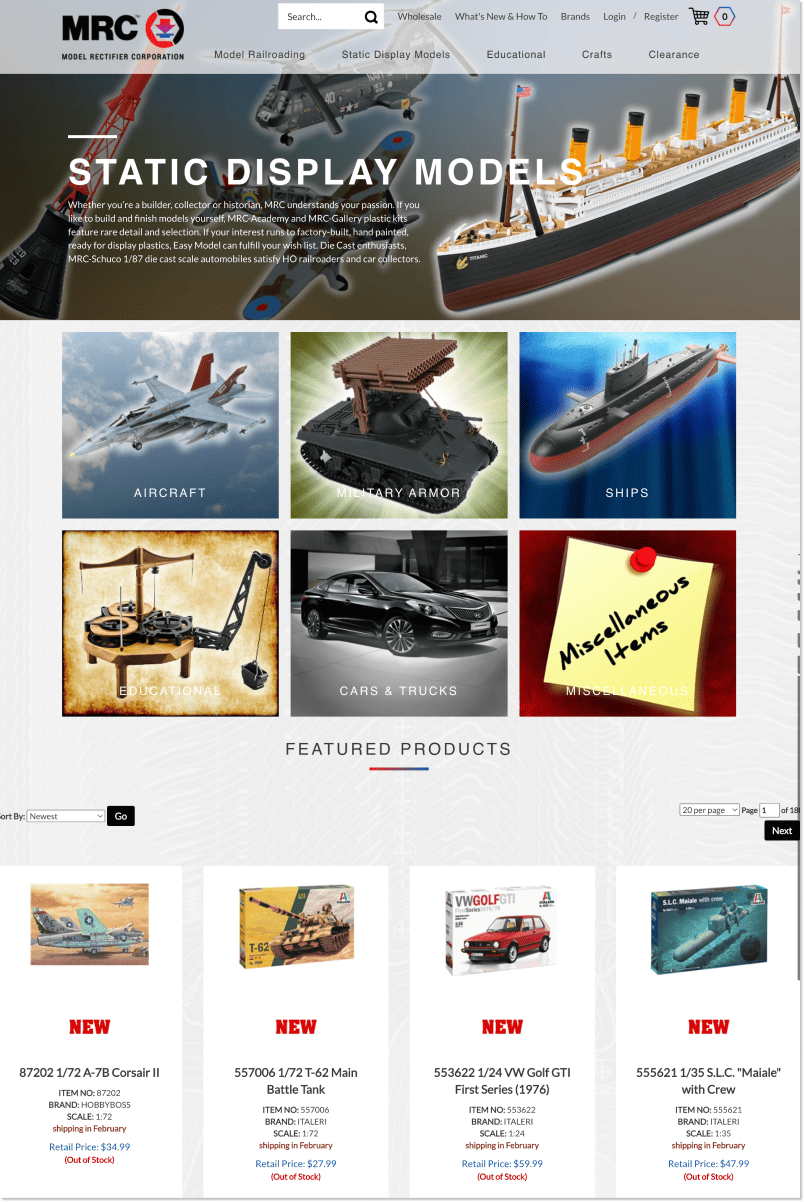 Model Rectifier have built a reputation for designing model railroad train controls with a level of realism and power previously unavailable.
Their success with model railroads led us to carry our passion for hobby quality and technology into the development of other outstanding brands and categories such as model aircrafts, ships, and landscapes.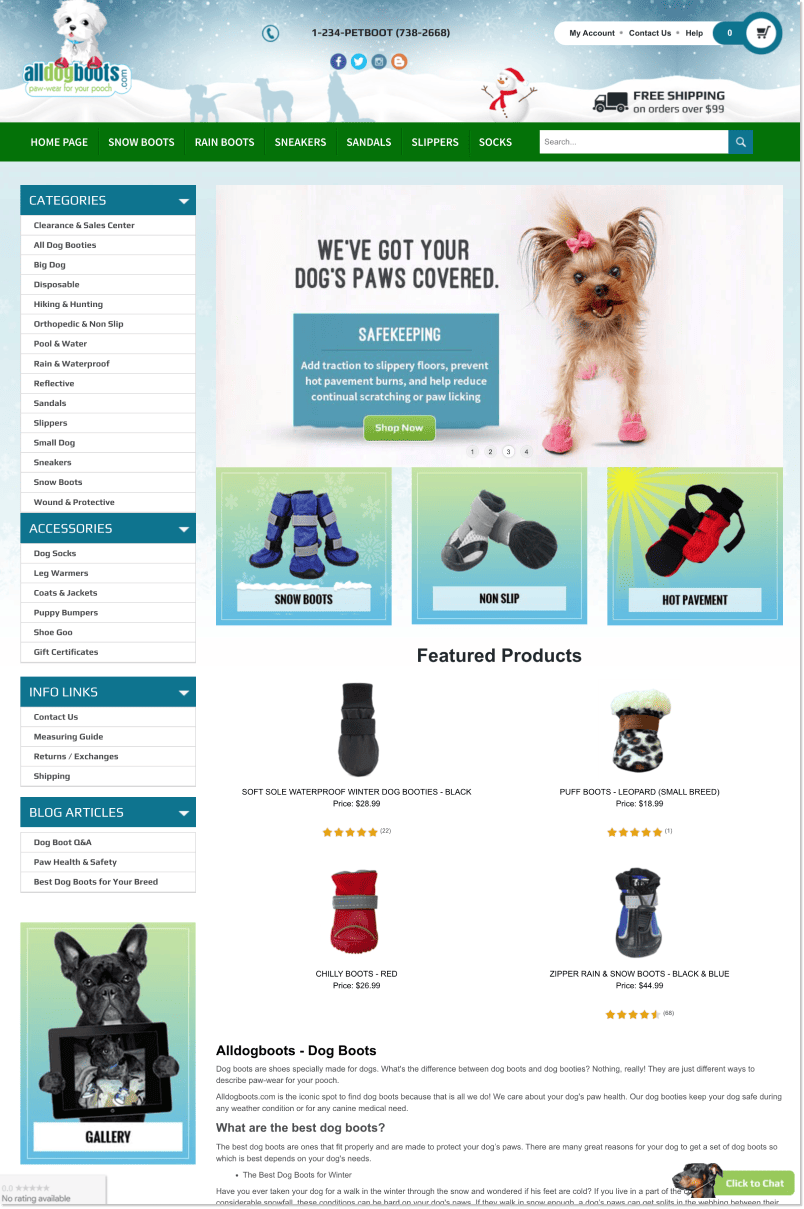 Alldogboots is a web based niche pet product company founded in 2009 with operations located in Palm Beach County, Florida.
They carry all dog footwear from winter boots, dog athletic shoes, rain boots, orthopedic boots and even doggie sandals and slippers.
Dog boots are basically shoes specially made for dogs, and AllDogBoots sells a ton of them. They have a boot that fits you dog in any occasion, whether it's in the rain, through winter or hot pavement in the summer.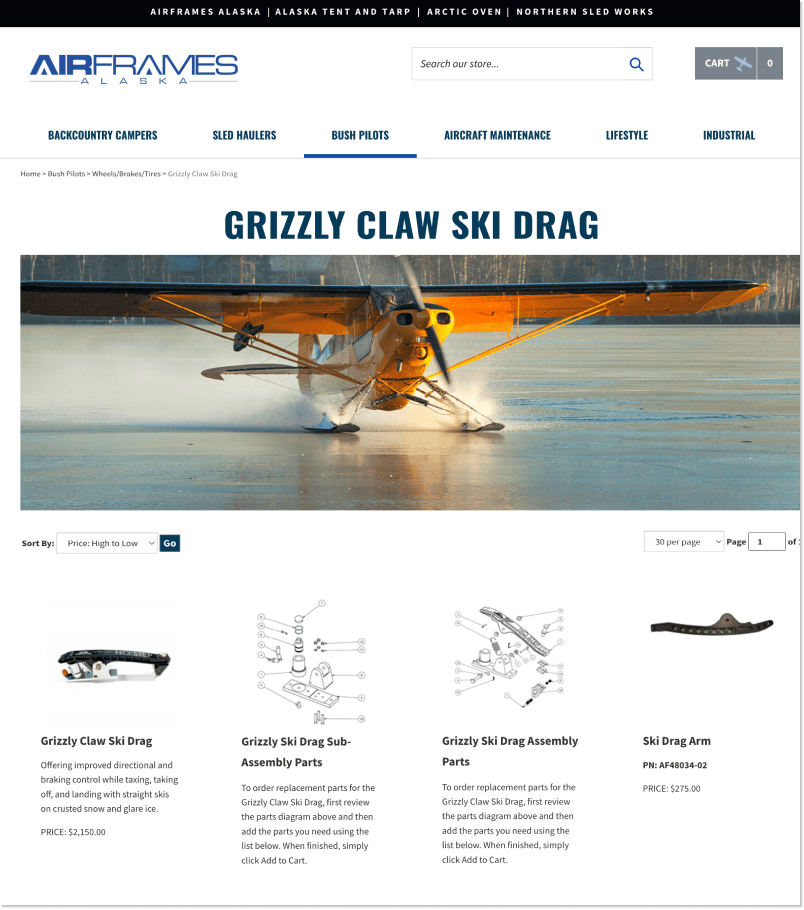 Airframes Alaska specializes in welded assemblies for bush planes such as the PA-18 style aircraft. They also make certified parts that supply bush pilots and their aircrafts the capability to access the most remote places in the backcountry.
Their mission is to provide strong and safe products to bush pilots and outdoor enthusiasts who are pursuing  adventure in the backcountry.
Whether you are a bush pilot, hunter, researcher, or guide, Airframes Alaska allow backcountry enthusiasts to dive deeper into their journeys.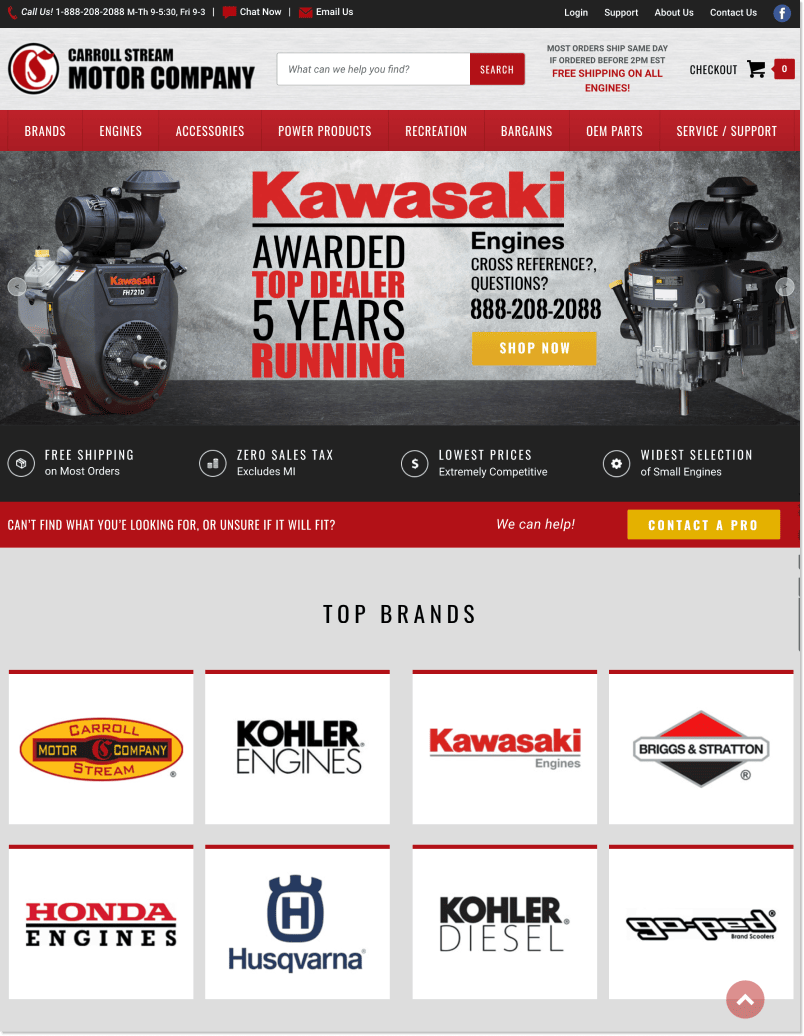 Carroll Stream Motor Company is a family owned and operated business that sells small engines and outdoor power equipment. They are a certified and authorized engine and parts dealer for: Kawasaki, Kohler, Briggs & Stratton, Vanguard, Honda, and Husqvarna.
Started in 2005, their goal is to provide the highest quality engine products for the lowest price. They import and Distribute a full range of gas engines, diesel engines, gasoline generators and more.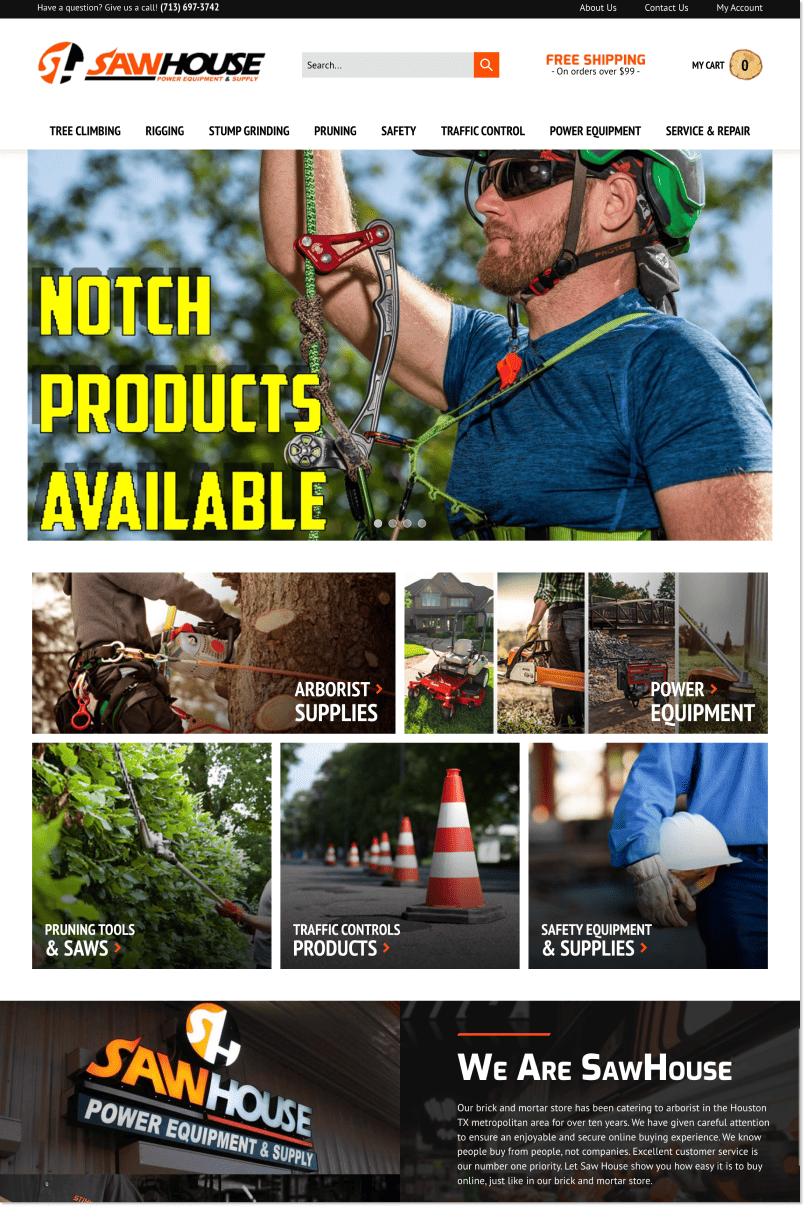 SawHouse has been catering to arborist in the Houston TX metropolitan area since 1999.
They have a wide range of products including tree climbing kits, pruning tools, power equipments, safety equipments and supply, and more!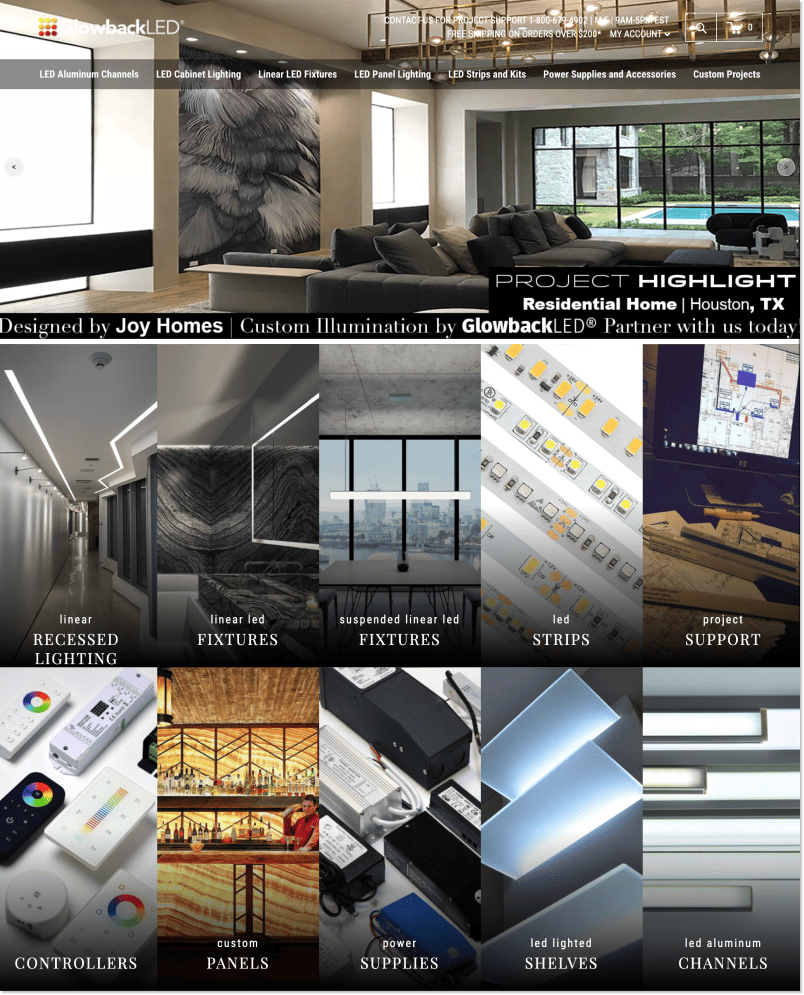 GlowbackLED is a design-minded manufacturer of customized LED lighting systems for decorative, residential, and commercial lighting needs.
Their goal is to deliver robust and reliable lighting systems that are simple to install and affordable.

They have an extensive product lines which include a full-range of surface, recessed, and pendant mounted linear LED fixtures for decorative, task, and general lighting purposes, and more.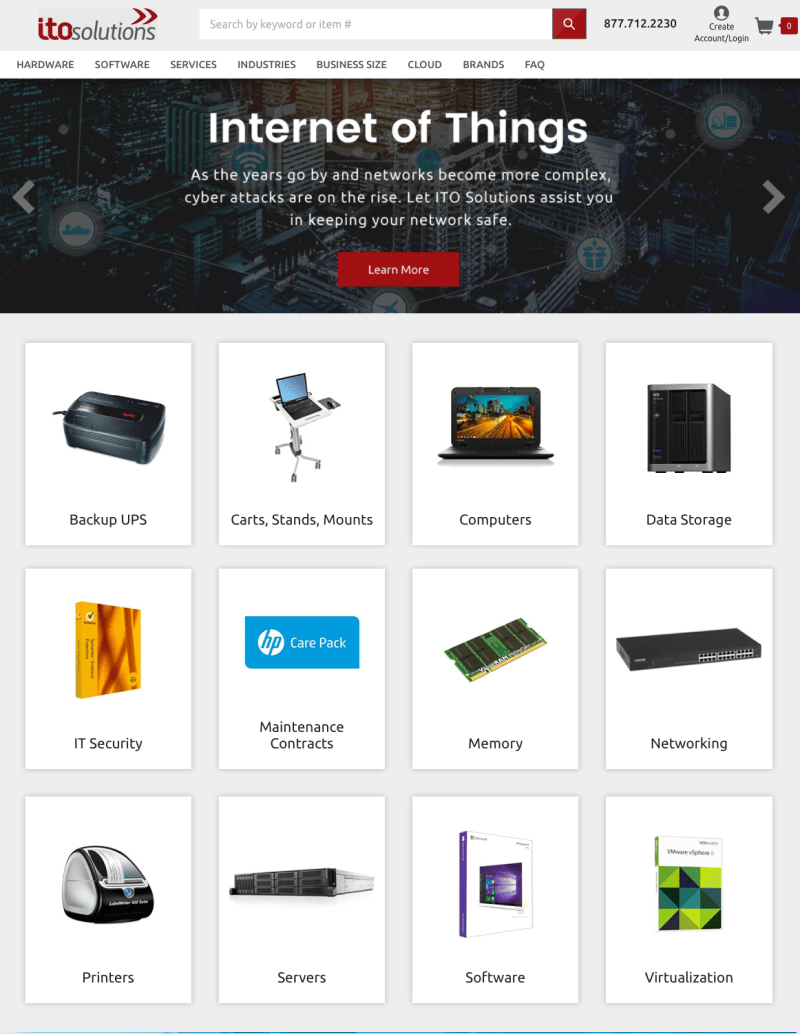 ITO Solutions carry IT equipments and technologies from brand names that you know and trust like Cisco Systems, Microsoft, VMware, IBM and more.
They also have managed IT solutions hardware in the form of hard drives, routers and servers. Choose from software by Adobe Systems, Intel Security or Microsoft.
Whatever IT infrastructure supplies you need to build or maintain your systems, you can purchase them directly on their eCommerce site.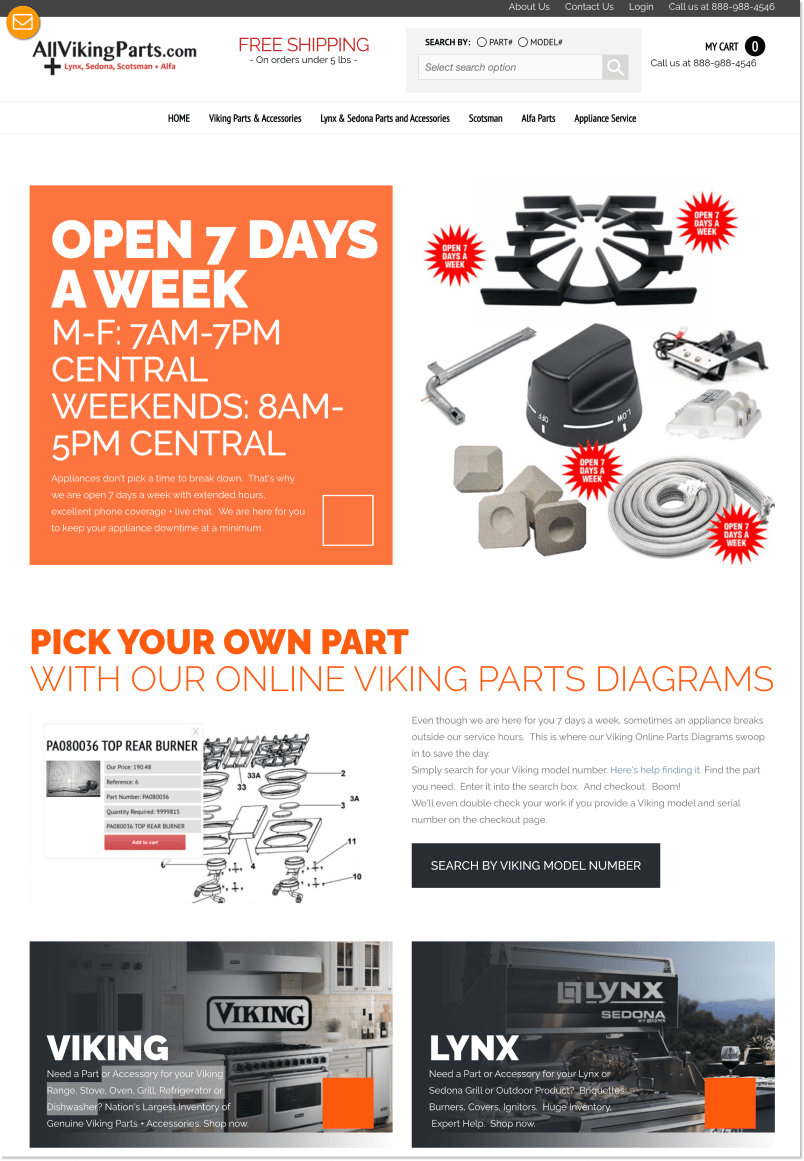 AllVikingParts is the authorized dealer for your Viking range — Stove, Oven, Grill, Refrigerator or Dishwashers.
Their site is easy to navigate. Just find the part you need, enter it into the search box, checkout and you're done! They will even double check the parts for you if you provide a Viking model and serial number on the checkout page.